Hellenic Farms
Dairy Products
Rethymnon GR
---
QUALITY AND FOOD SAFETY POLICY
---

CERTIFICATIONS
Quality for us means respect for our customers, ensuring their health and meet their needs in the best possible way. With the primary objective of ensuring high quality in all our products, we apply all the high technology methods and strict specifications in the packaging. A basic prerequisite for achieving this goal is the implementation of systems, quality standards and practices. We commit ourselves by Quality Policy and demonstrate it with our quality system compliance certificates according to standards such as:

Biological Products Certification
Certificate of compliance for cutting and packaging of organic cheeses and meat products.
---
Origin Certifications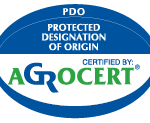 ---
Certificates for Protected Designation of Origin
Agrocert Certificate "FETA PDO"
Agrocert Certificate "PICHTOGALO OF CHANIA PDO"
Agrocert Certificate "GRAVIERA OF CRETE PDO"
Agrocert Certificate "MANOURI PDO"